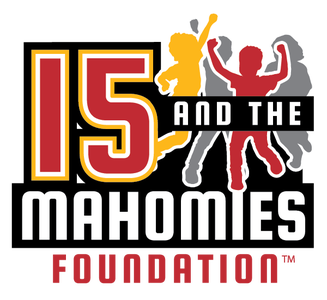 15 And The Mahomies Sends Kids From Boys & Girls Club To Kansas City Chiefs Home Football Game
Published October 14, 2019
Kansas City, MO (October 14, 2019) – It was announced today that 15 kids and selected family members were able to enjoy a Chiefs home game. The Boys & Girls Club of Greater Kansas City attended the game through the 15 and the Mahomies Foundation's signature program, 15 for 15. This program supports 15 youth charitable initiatives that focus on academics, unique experiences, science, the arts, classroom supplies, athletics, children with disabilities, after-school programs and more. All attendees were provided game tickets, 15 and the Mahomies t-shirts and gift cards for concessions and apparel.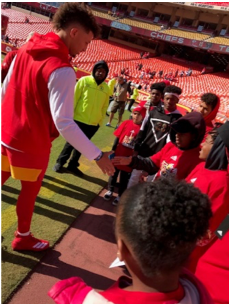 We are proud to support the kids at the Boys & Girls Club of Greater Kansas City to join Chiefs Kingdom at Arrowhead Stadium," said Patrick Mahomes. "It is our hope that this was a memorable experience for these special kids."
"The outstanding generosity of the 15 and the Mahomies Foundation this past weekend provided a life-long memory and unforgettable experience. This gesture provided a group of our Club members with not only the chance to attend a Chiefs game – something most of them have never been able to do – but also to get a behind the scenes journey around Arrowhead. We target the children who need us most across this community, providing stability, structure and opportunity in our eight Club locations across the metro. The Clubs change live - thanks to great partners such as 15 and the Mahomies Foundation," says Dr. Dred Scott, President & CEO of Boys & Girls Club of Greater Kansas City.
About 15 and the Mahomies Foundation
The 15 and the Mahomies is dedicated to improving the lives of children through initiatives that focus on health, wellness, underserved communities and other charitable causes. It was established by reigning NFL MVP, Kansas City Chiefs QB Patrick Mahomes in 2019. The inaugural 15 and the Mahomies Gala presented by Community America Credit Union will be held at the Kansas City Marriott Downtown on Thursday, November 21, 2019, 6:30 p.m. For more information, visit www.15andthemahomies.org.
About Boys & Girls Club of Greater Kansas City
The Boys & Girls Clubs of Greater Kansas City provides a fun, safe environment for kids to learn, play, grow and meet new friends. From sports to education and group activities, the Clubs provide quality programs to thousands of area kids every day. Kids who may otherwise lack the resources for such opportunities. The Boys & Girls Clubs promotes the development of self-esteem, values, and skills for boys and girls, ages 5-18, with special emphasis on youth from disadvantaged circumstances.