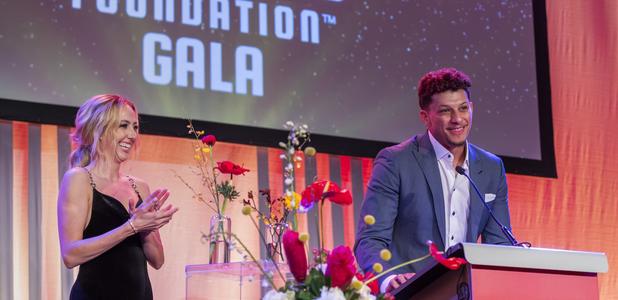 Patrick Mahomes Announces Second Annual 15 And The Mahomies Foundation Gala
Published September 22, 2021
Kansas City, MO (September 22, 2021) – Kansas City Chiefs' quarterback and Super Bowl LIV MVP Patrick Mahomes II announced his second annual 15 and the Mahomies Foundation Gala. The gala will be held at the Kansas City Marriott Downtown on Monday, November 22, 2021, at 6:30pm. The 15 and the Mahomies Foundation is dedicated to improving the lives of children through initiatives that focus on health, wellness, underserved communities and other charitable causes.
"The 15 and the Mahomies Foundation looks forward to recognizing some organizations and individuals doing great things to make a positive impact on the Greater Kansas City community," said Mahomes. "I'm looking forward to joining Chiefs Kingdom and giving back to a community that has given so much love and support to my family."
In addition to dinner, words from Mahomes and a live auction, the gala will recognize the philanthropic work of Kansas City charity organizations and community leaders.
Mahomes launched the foundation in 2019, and has instilled many significant projects and programs across the Kansas City region and the other communities and organizations that have impacted his life. Some programs include the All-Inclusive Playsite at Martin Luther King Jr. Square Park, its 15 for 15 program which donated $250,000 to 15 charities in 2020, Children's Mercy Adaptive Sports Program, Variety KC Kids Adaptive Bike Giveback and much more.
For sponsorship and ticket information please visit www.15andthemahomies.org or email [email protected].