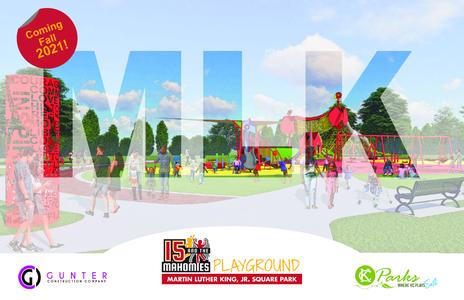 15 And The Mahomies Foundation Announces Legacy Brick Project For The All-Inclusive Play Site In Martin Luther King, Jr. Square Park
Published February 15, 2021
Kansas City, MO (February 15, 2021) – The 15 and the Mahomies Foundation announced a new opportunity to join a legacy brick project for its all-inclusive play site at Martin Luther King, Jr. Square Park. The foundation's legacy brick project is open to all members of the community and comes with a chance to create personalized brick pavers that will be featured in a special section of the park for decades to come.
"We want this play site to truly be a community project that individuals, families and organizations can be a part of and will be proud of for generations," Marques Fitch, 15 and the Mahomies Foundation Director. "We created this legacy brick project to help encourage full community participation, in addition to Patrick Mahomes' personal commitment and the foundation as a whole."
Each brick can be inscribed with a customized message and is a perfect tribute for families, friends, teams and memorial dedications. The bricks will be installed in the summer of 2021 and the deadline to be a part of this legacy project is May 26, 2021. Quantities are limited and supporters are encouraged to act quickly to secure their place in this legacy project.
"I'm really excited about this project because it perfectly aligns with the mission of the foundation to bring all kids together in a healthy and safe way to just be kids," said Patrick Mahomes. "I hope this is a project that the Kansas City community can rally around and enjoy for a long time."
There are five brick styles available and they start as low as $250. All packages include a replica brick that can be displayed in your home or office. Replica bricks are excellent gifts and can be customized with a premium material, a personalized message and several more custom options to fit your desired look and feel.
We invite you to look into all these options and join 15 and the Mahomies in this all-inclusive community project at 15andtheMahomies.org/Park.
About 15 and the Mahomies Foundation
The 15 and the Mahomies Foundation is dedicated to improving the lives of children through initiatives that focus on education, health, wellness, underserved communities, and other charitable causes. It was established by Super Bowl LIV MVP, Kansas City Chiefs QB Patrick Mahomes in 2019. Learn more about our mission and programming at www.15andthemahomies.org.