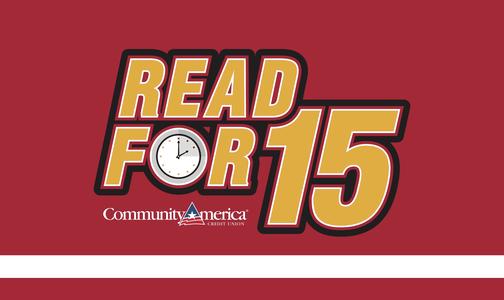 15 and the Mahomies Team Up with Lead To Read KC and Rotary Club of Overland Park To Distribute 25K Books to Local Schools
Published October 27, 2021
Kansas City, Mo. – In an effort to encourage reading among youth, Kansas City Chiefs QB Patrick Mahomes and his foundation, 15 and the Mahomies, are teaming up with local nonprofits Lead to Read KC and the Rotary Club of Overland Park to get books in the hands of children in Kansas City.
It is estimated that 28 million children read below proficiency level for their age. A lack of books and lack of practice are the leading causes of childhood illiteracy. One of the most successful ways to improve a child's reading ability is to increase access to books.
The 15 and the Mahomies' _Read for 15 _program enlists children, with the support of their parents and caregivers, to read for 15 minutes every day outside of school for 15 weeks. Reading 15 minutes a day is the "magic number" at which students see a substantial gain in reading achievement.
"The most important message of this program is that reading is cool," said Mahomes. "Whether it's reading books, short stories, magazines or whatever you're interested in - reading is a key skill for success."
The Overland Park Rotary Club's Rotary Reads program is providing 25,000 books for Read for 15. Together with the Kansas City Chiefs Ambassadors, 15 and the Mahomies and Lead to Read KC, they will collectively deliver 40 cases of books to 15 of Lead to Read KC's partner schools.
"Lead to Read KC is excited to support Read for 15 because encouraging children to read at home is an important part of helping children become strong readers," said Pauly Hart, Lead to Read KC Executive Director. "We hope that by supporting Read for 15 and by expanding our Reading Is Everywhere community book distribution initiative, children will adopt the habit of reading wherever they may be—not just in school."
The_ Read for 15_ program will kickoff with a delivery to the Brookside Charter School on Thursday, October 28 at 10 AM. KC Wolf will rally hundreds of children the day of the book delivery, where they will watch a personal video message from Mahomes on a big screen and select their books to read at home. Students, parents and caregivers can sign a pledge to read for 15 minutes a day for 15 weeks, and share pictures of their children reading on social media using #ReadFor15!.
About 15 and the Mahomies
15 and the Mahomies is dedicated to improving the lives of children. The Foundation supports initiatives that focus on health, wellness, communities in need of resources and other charitable causes. It was established by NFL MVP, Kansas City Chiefs QB Patrick Mahomes in 2019.
About Lead to Read KC
Lead to Read KC is a children's literacy nonprofit dedicated to supporting the social, emotional and reading skills that are foundational to student success. It does this by mobilizing community volunteers, called Reading Mentors, to read one-to-one with students attending high-need elementary schools across Kansas City, as well as through its Reading Is EverywhereSM initiative.
About Kansas City Ambassadors
The Ambassadors are a group of former Kansas City Chiefs players from throughout the club's history. In their 33rd year, the Ambassadors have become a recognizable group throughout the NFL and serve as an innovative and worthy asset to the Chiefs Community Caring Team in the Kansas City region and beyond. The Ambassadors are the only group of their kind in the NFL and inductees into the group are hand-picked based on tenure and their willingness to participate in Ambassador outreach events and meetings.
About Overland Park Rotary Club
The Overland Park Rotary Club has been serving our community since 1960. The club is comprised of nearly 100 men and women who are committed to each other as well as serving the community. The Overland Park Rotary Club is a place for business people, non-profit leaders, community and political leaders, all coming together to support the community in service.