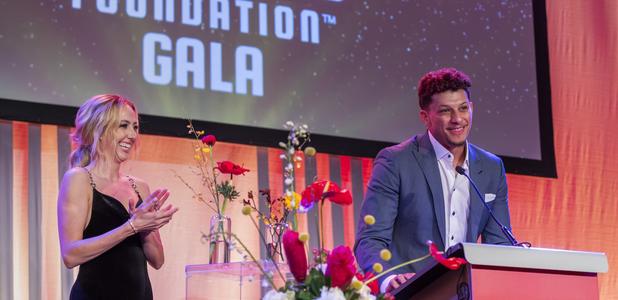 Patrick Mahomes' Second Annual 15 and the Mahomies Foundation Gala Provides More Than $300K in Charitable Grants to 15 KC Youth Programs and Announces Scholarship Program
Published December 03, 2021
Kansas City, MO (November 29, 2021) – The 15 and the Mahomies Foundation announced today that they have provided charitable grants of $15,000 to 15 deserving charities from the Kansas City area through the foundation's signature program, 15 for 15. This program supports 15 youth-driven organizations that focus on academics, sciences, arts, classroom supplies, athletics, children with disabilities, after-school programs and more. At the gala, over $300,000 in charitable grants were donated to community programs.
The foundation also announced the establishment of its Mahomies Scholarship program with applications opening in early 2022. This program will provide 15 scholarships of $5,000 to first generation college students in the Greater Kansas City Area.
"Last night was special," said Patrick Mahomes. "I'm thankful for the continued support from the Kansas City community. I enjoyed interacting with our hard-working charitable partners and supporting their efforts to continue the great work they are doing for the kids in this community."
The 15 for 15 Grant Recipients of 2021 include:
1. Boys & Girls Club of Greater Kansas City
2. Children's Mercy
3. City Year
4. El Centro
5. Emmanuel Family & Child Development Center
6. The Hope Center
7. High Aspirations KC
8. Kansas Children's Services League
9. Operation Breakthrough
10. Pete's Garden
11. Special Olympics Missouri
12. The Upper Room KC
13. United Inner City Service
14. Variety KC
15. Youth Volunteer Corps
In addition to the grants given to these local nonprofit organizations, the foundation also raised significant funds for its next project the 15 and the Mahomies Foundation Health and Wellness Program powered by GEHA. The program will focus on three key pillars: education, dental screenings/cleanings, and physical activity.
Mahomes was presented with two awards honoring his philanthropic contributions this year. The Make-A-Wish Foundation gave Mahomes the Chris Greicius Celebrity Award for delivering unforgettable wish experiences and bringing awareness and funding to the organization. The second award was the Patriot Award from the SEAL Legacy Foundation for the scholarships he provided to children of fallen U.S. Navy SEALS.
Each year, the gala honors two Community MVPs that have made a significant impact in the KC region. This year's recipients included Jack Stack Barbecue CEO Case Dorman and Civil Rights Leader Alvin Brooks. Dorman is a tremendous philanthropic partner of the foundation and always goes above and beyond to help spread love through food and financial support. Brooks is Kansas City's most beloved civil rights activist and public servant. From becoming one of Kansas City's only black police officers in the 1950s and the first black department head in Kansas City government to being at the forefront of today's most pressing issues.
The Second Annual 15 and the Mahomies Foundation Gala was presented by CommunityAmerica and supported by GEHA and Hy-Vee.
Download Hi-Res Images from the Second Annual 15 and the Mahomies Gala HERE. Please credit and/or tag @15andthemahomies.
About 15 and the Mahomies Foundation
The 15 and the Mahomies Foundation is dedicated to improving the lives of children through initiatives that focus on health, wellness, underserved communities and other charitable causes. It was established by reigning NFL MVP, Kansas City Chiefs QB Patrick Mahomes in 2019. For more information, visit www.15andthemahomies.org.