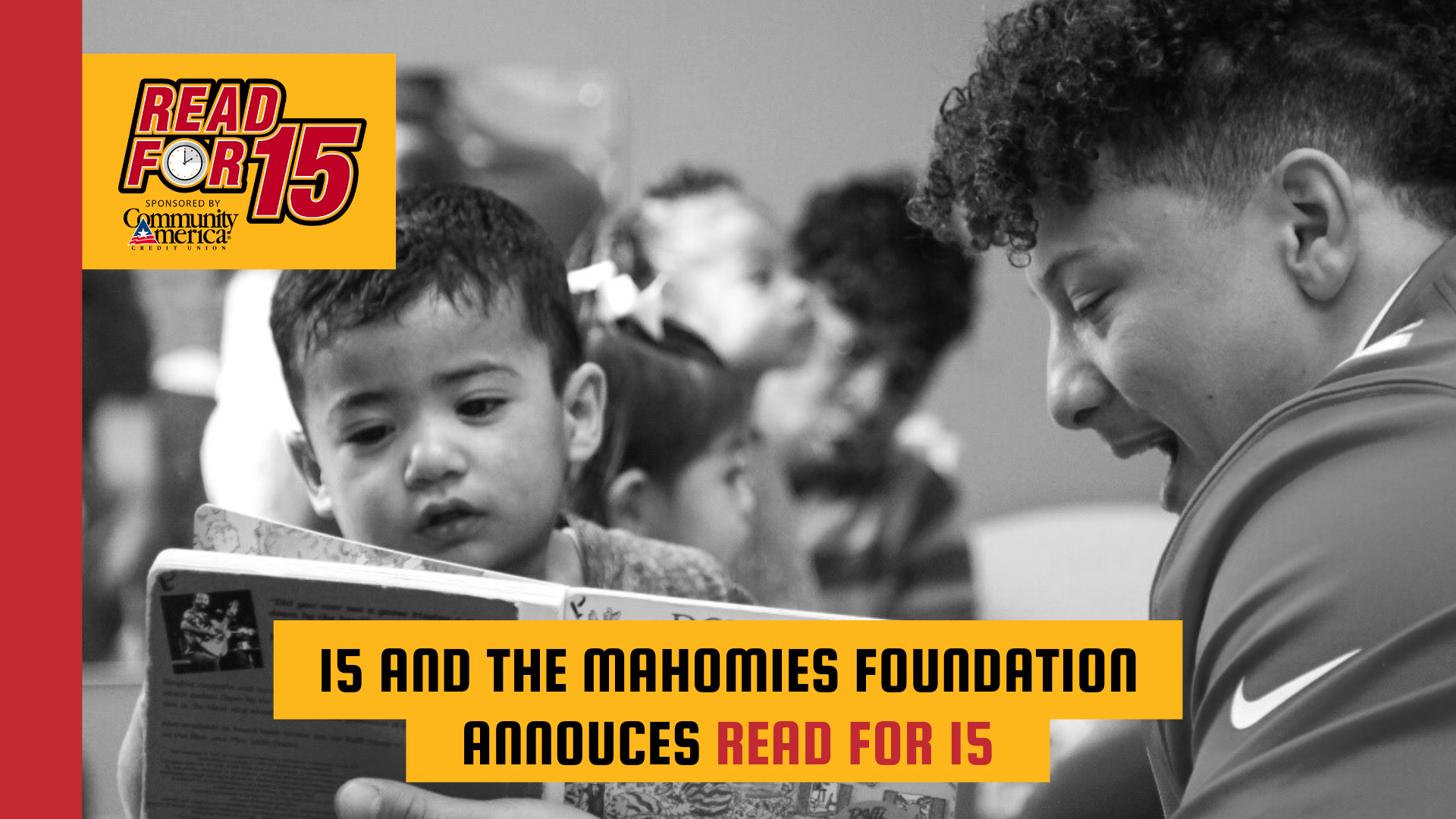 15 and the Mahomies Announces Read For 15 Program
Published September 24, 2020
Kansas City, MO (September 24, 2020) – It was announced today the 15 and the Mahomies Foundation will be launching a reading initiative in 50 elementary schools in the Greater Kansas City Area and the South Plains of Texas. The program, Read for 15, sponsored by Community America will encourage elementary school students to read for at least 15 minutes a day for 15 weeks.
"CommunityAmerica's charitable giving has a strong focus on education and reading is the most critical skill for academic and life success. We are excited to partner with Patrick Mahomes and the 15 and the Mahomies Foundation to bring the Read for 15 initiative to youth in our community and help foster a love of reading," said Lisa Ginter CEO of CommunityAmerica Credit Union. The foundation has created a literacy council comprised of school administrators, literacy advocates and educators to help guide and shape this program. "I want young kids to know that reading is cool and help them understand the importance of education," said Patrick Mahomes. "Read for 15 will promote the benefits of reading and introduce students to some awesome books."
The 15 and the Mahomies Foundation's Read for 15 initiative will be paired with the Kansas Chiefs' Program, Kingdom United. Elementary schools participating in the Kingdom United program will commit to incorporating 30 minutes each week of teachings about equality, inclusion and acceptance. Each elementary school will receive complementary, grade level appropriate, diversity-themed books for each student. Their teachers will be provided with weekly discussion topics and activities that can be utilized to reinforce the messages in the books.
About The 15 and the Mahomies Foundation
The 15 and the Mahomies Foundation is dedicated to improving the lives of children through initiatives that focus on education, health, wellness, underserved communities, and other charitable causes. It was established by reigning Super Bowl MVP, Kansas City Chiefs QB Patrick Mahomes in 2019.