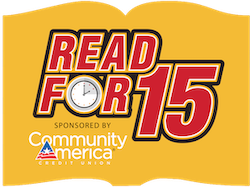 Read for
15
Read for 15 is our program to encourage children to develop a love for reading. Children and their parents can take the Read For 15 pledge for a chance to win cool prizes throughout the 15 week program.
Learn More
15

For

15

The Foundation's signature program is called 15 FOR 15, which will support 15 youth charitable initiatives that focus on academics, science, the arts, classroom supplies, athletics, children with disabilities, after-school programs and more.

Support The Program
Volunteer

For

15
Volunteer for 15 is a partnersip between 15 and The Mahomies and The Youth Volunteer Corps to encourage youth ages 11-18 to make a pledge to volunteer 15 hours this summer. Youth Volunteer Corps will coordinate the program, and registration is now open on their website at YVC.org.
Learn More